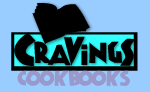 What to Cook When You Think There's Nothing in the House to Eat
by Arthur Schwartz

Harper Perennial, 1992. 275 pages, 175 + recipes.

Go To Cookbook Archive



"(This book) is meant for those who...think something cooked from scratch at home - no matter how basic - is more rewarding to eat than something picked up from the frozen food case or a takeout shop."




Spoonbread
Cabbage and Noodle Kugel
Tomato Sauce with Olives and Capers
Lemon Sponge Pudding




What to Cook When You Think There's Nothing in the House to Eat is available for easy online purchase right now at Amazon.com. Click the Amazon icon for current prices.



Look of the Book

With a good clean layout, Schwartz' clear instructions and his entertaining recipe notes, this book is a pleasure to use. One small problem: the edges of the pages are deckled (I think that's the word) so that flipping thourgh the book is not as easy as it could be.

Let's say it's nearing dinner time. You cruise the kitchen and only come up with half a carton of plain yogurt, a half-decimated head of cabbage, a box of noodles, and the last two eggs. You have two choices. You can order pizza. Or you can open up What to Cook and look under the heading "Cabbage". You browse the cabbage-based recipes until you come upon Noodle and Cabbage Kugel. And within half an hour you've transformed your unpromising odds and ends into a great little supper (this dish has become a family favorite in my house on bare-cupboard nights).
This book is organized by the kind of ingredients you're likely to have on hand (eggs, carrots, pasta, frozen peas, tuna, onions, flour, etc). The recipes are easy, unfussy, and good. Most of them are classic just-folks dishes from around the world. Dishes like Pasta e Fagioli, French Onion Soup, Turkish Rice Pudding, Apple Crisp. Reflecting their humble origins, these recipes shine with thrift, resourcefulness, and simplicity. Some dishes were homey to the point of dullness for my tastes (his Corn Souffle needed a little more oomph - maybe a little bacon would have done the trick).
Novices and experienced cooks alike will appreciate What To Cook. While the recipes are simple, they are not simple-minded such as Mocha Ice,Carolina Grits Souffle, and Carrot and Orange Soup. The author, Arthur Scwartz, a genial and knowledgable presence throuhgout the book, gives helpful tips on selection and storage of ingredients.;
Some people get satisfaction from coaxing those last recalcitrant squeezes out of the toothpaste tube. I get satisfaction from coaxing a good meal from a seemingly bare cupboard. I couldn't do it without consulting with Arthur Schwartz.